Butterfly's Thornbush
October 22, 2009
All alone in butterfly's thorn bush,
My surroundings and I embracing inanimation.
I can feel self-hating tears beginning to gush,
But I'm safe here, alone, without risk of eradication.
If I go out there, it'll all end. My comfort, my shell.
I'd rather be here, trapped, with no way out . . .
Than diving head-first into mainstream social hell.
My wings are stuck, and I can't set them free.
But nobody notices my struggle here.
After all, they're much better off without me . . .
Me. A space-filling horsefly, buzzing in their ears.
Will my dream of escape ever come true?
I don't feel myself making progress.
But I do feel my once red wings turning blue
As I dissolve into a withering, rotting mess.
Restricted and alone in butterfly's thorn bush. . .
That's exactly where I wish to be.
I'll wait, I'll watch, until I turn to mush.
So that no one will ever be able to find me.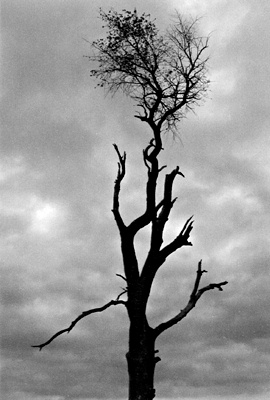 © Cassie H., Carmi, IL