Nightmare
October 21, 2009
little worms crawl out of your
ear balls at night when you let
the silence crush you, heavy
and metal cracking your ribs
making you look up at the
ribbed ceiling, making you
see patterns on the walls
and making you think
so hard your hard wires
hardly wire up anymore
hardwired not for this
but for a simpler day.
when the moon is peaking
buzzing and your mouth tastes
like stale sweat and
and when you look in the
mirror you could star for
hours and find little puddles
in your pupils as you watch them
shrink and glow with every
flick of the light
on and off
wash your hands a couple
more times before you
go back to bed- but then
you stop and watch your
cheeks sag under the
drivel of the unflattering
lights above the smudged
mirror and you think,
"this is me? i look like this?"
and every shake of the lip is followed
by the back of your brain
pounding telling you
this is all an illusion
and when you open your
eyes, you are back in bed
and have forgotten what you
looked like.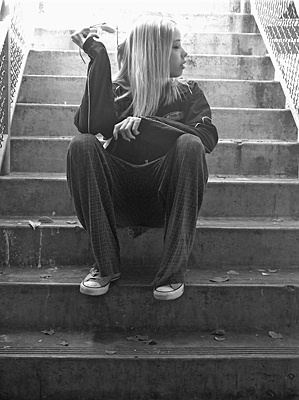 © James M, Walnut Creek, CA