two worlds
October 11, 2009
when the engine quiets, we climb out and
stride side by side to the sliding doors, but in
that unsuspecting walk, i see you, a stranger
without a name. i don't notice much of you
until i see your eyes, or lack thereof. you've
covered them with sunglasses, two shiny
golden globes that reflect the world you face.
they remind me of a memory where i studied
the compounded eyes of a fly, blue-green and
reflective and shiny, much like yours. however,
i am brought back to the present when i notice
that our paths are about to collide. you take
action with a sudden turn and swiftly brush by me.
in that moment, i faintly realize that two worlds
are passing between us. but these worlds are
foreign to one another; they never touch or
intermingle, only reflecting for an instant. so you
flit away as quickly as you came,
much like the fly of my memory.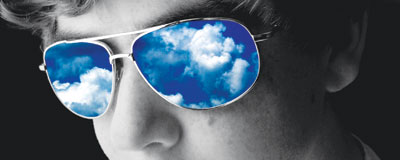 © Joseph B., Mesquite, TX