Nutshell
MAG
September 15, 2009
Once a child of clichés, I ate my words.
Was an overweight proud-to-be American.
Force-fed daily talk-radio sessions were
Choked down with half-baked poems.
Awoke to morning breath.

Born to teenage parents,
Put up for adoption.
Taken in affection, unrequited;
Childhood scribbles on the wall
Foretold my life story.

Made love for the first time and knew
What it was to write poetry.
Bored of the forwardness in prose,
Became a fan of haiku and freeform.
Lost interest in high school academics.

Read John Galt's speech
For several fleeting hours.
Wandered into class late;
Pondered objectivism in detention.
Cursed Ayn Rand.

Snuck out at night; lost my shoes.
Went skinny dipping; lost my clothes.
Gave in to desire; lost humility.
Thought independently; lost God.
Found passion; discovered heartache.

Household turned war zone.
Fought for gay marriage
And a higher allowance.
Score one for homosexuality.
Zero for my bank account.

Began having deviant opinions;
Parents' hair faded toward gray.
Stopped caring if lies were white.
Became fashionably fond of black –
Bought tight pants.

Applied to college
For a brighter tomorrow.
Crawled to bed tired and
Dreamed myself to sleep –
Awoke to a brilliant sunrise.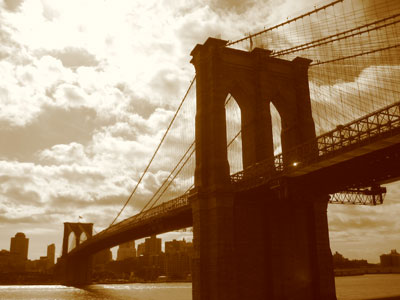 © Andrew M., Brooklyn, NY