i became the stars
November 5, 2018
one day i became the stars
outlined in the sky
stardust coated my skin
my lips
my lashes
it turned my hair to silver
and then
the deepest black.
glistening silver teardrops
gliding down my cheek
cool
against my lips
like water from a creek.
sweet winds released me
from my hollow cage
and blew me up
and out and in.
i saw diamonds and glass and ice,
falling in the lonely winds.
and as i flew
free and blind
i wondered if life
had ever been so kind.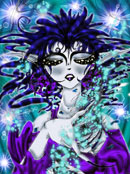 © Lena B., Olympia, WA