Home at Sea
April 28, 2012
Each approaching wave travels further than the last,
Leaving only traces of foam to trim the uneven shoreline.
A salty mist lingers in the air.
Once penetrating the humidity,
It settles on their lips and makes their mouths taste of the sea.

Beach houses border the sandy shore,
Their facades - a spectrum of pastels.
The couple strolls along the beach avoiding the other's gaze,
Silently wishing to escape the chatter of other visitors,
To disappear from their intrusive glances,
And submerge themselves in a world all their own.

He catches a glimpse of her skirt skillfully dance in the breeze,
Her hair is knotted in a loose bun,
Yet a few strands fight their way free.
He quietly watches her,
Secretly longing to position the wisps behind her ear,
And brush his hand across her cheek.
But he must wait.

From the corner of her eye,
She observes the back of his legs
And wonders if he can feel the dried sand that covers them.
His toes nervously press into the sand,
Leaving small, but deep holes at the top of each footprint.
She briefly glances at his face
To see the same sand that coats his leg,
Marks the lower part of his left jaw.
Although she yearns to brush it from his face,
She must wait.

Their promenade leads them away from the crowds,
Until they vanish from the winding shore.
Although the couple has managed to get away -
The visitors loud babble no longer audible -
They have not escaped.

They still walk the damp shoreline.
They still taste the salty air.
They still feel the ocean breeze.

Standing motionless,
They slowly sink into the wet sand.
A wave calmly travels up the shore
And floods their ankles,
Leaving their feet immersed and their bodies awake.

He gently takes her hand.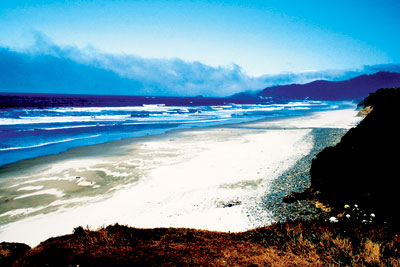 © Kristin R., Los Altos, CA