The End of Forever
September 26, 2011
He sits with the rest and hears the cries.
Of the broken hearted and unanswered goodbyes.
Remembering the girl who took her life.
Wanted her to become his wife.

Proposing in a half an hour.
The table set with wine and flowers.
Their dinner that was almost perfect.
The magic of their first date they would ressurect.

On the radio was their song.
Nothing on this night could go wrong.
He gets a call from the woman he adores
And hears, "I'll love you forever, I'm always yours."

He asks what was wrong, sorrow in her voice.
She says, "I have to go, I have no choice."
"Please wait! Don't go. I have a surprise."
Over the phone he hears her cry.

The phone goes dead, no longer there.
He rushes out into the market square.
He finds his car across the street.
Fiddling with the keys, wrong one, then repeat.

Finally at her house, swooping through her door.
Finding her there lying on the floor.
He expects the worse, not being aware.
Sees the blood and starts in prayer.

"Oh Lord, how I loved her. What happened to us?"
He looks down and hugs her and gives her a kiss.
Upon her stomach there was a note.
He wipes his tears away with his coat.

The note said "I love you. And I always have."
"But all my life, I've been unbearably sad."
"All my family is gone, I've lost my best friend."
"I knew it wouldn't work out in the end."

"I'll always miss you, despite your beliefs."
The only sound was the chattering of his teeth.
The note was ended with another "I love you."
And two tiny words at the bottom "I do.."

He cries and thinks of how things were.
The sadness in her heart never occured.
Her long blonde hair, straight and soft.
He laughed when he saw her goofing off.

She was amazing and fun, no one could compare.
He called the police and again started in prayer.
He mouthed the words, "I love you."
Heaven now had a beautiful angel.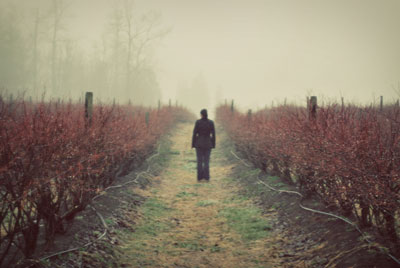 © Molly H., Lynden, WA