*Haunting Lovers*
August 14, 2011
One last kiss, colder then our goodbyes,
A love for forever sadly now dies .
this burning dream has come to our nightmare,
still I half to think the whispers of this place are no longer fare .
an the blurr burns over our eyes as we loose grip whats real,
our hands slip further away an you'll never awake with life's feel.
I can't let this go buts its leaving me deeply,
an your misery eyes are getting heavy as you get sleepy.
our minds meet again an share a unforgettable farewell,
an you'll leave this world as before of a broken shell.
please don't go out like this they're is so much ahead,
an reed these words keep them close, the ones I never said....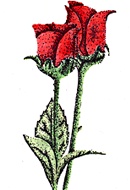 © Sarah M., Phoenix, AZ