Fireworks
July 24, 2011
She smiled and laughed as her eyes took to the skies,
But my eyes took to hers.
She watched fireworks splash across the night,
But I watched them in the nights of her pupils.
The colors in her eyes shimmered in my own,
For through them, my heart celebrated its own independence
So as to be beyond the restraint that words could explain
And the thunder from the explosions of colors
Were just enough to cover the implosion of my heart.
She giggled and illuminated a glow of joy
And all I could do is wish shed look at me like that,
But I'm no raining sky of fire lit glitter,
I'm the man watching from the rooftop,
Smiling and laughing as she lit up the sky.
From the rooftop, I had the best seat in town.
No display could match the awe I was watching.
She is my celebration, my celebrated,
My independence from my own body.
Fireworks.
She lights my night in a miraculous showcase
of grace and beauty without comparison.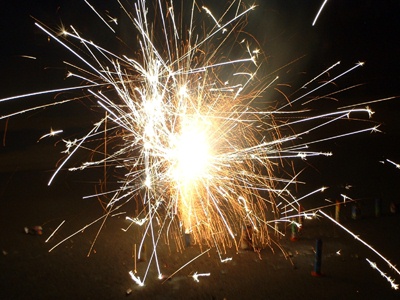 © Kevan B., Beaverton, OR