Have a Nice Life
May 9, 2011
"This isn't working," she says,
As she looks into my eyes.
I can't even answer,
Afraid that I will cry.

I walk back to my classroom
And pretend I'm okay,
Then the pretty girl in front of me
Turns around to say,

"How'd things go with Mary?"
For a response, I shake my head.
She's surprised I seem so calm,
But I know I'm better off dead.

But that pretty girl became my friend,
She'd talk to me every day.
Cheering me up and making me smile
In her own very special way.

Soon, Mary was gone and I had
The girl I'd been looking for.
The girl who will really love me,
Who I'd talk to and never get bored.

After many long nights helping me,
She invited me out for a night.
Soon from my hope and despair,
I finally saw a light.

I'd found the girl of my dreams,
And I knew I'd just have to ask
If she would be mine and be all that I want,
And make me happy at last.

Now she's all mine, and I say all the time,
I'm the luckiest guy there's ever been.
When she gives me a kiss, I smile 'cause I know
I'm the happiest I've ever been.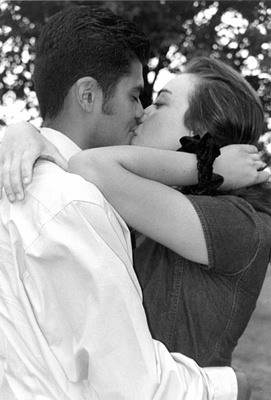 © Yaniris M., Boston, MA