Realization
May 14, 2010
I don't understand this feeling,
this sudden high that no one can destroy.
This sudden bliss from one kiss,
a kiss so sweet and innocent
it should be a sin.
Oh give me my sin sweet angel.
There's this indestructible feeling when
your hand is mine for only a moment
Just when I think I'm falling,
you are there to catch me in your arms,
the one place I know I'm forever safe.
My security blanket of warmth and serenity.
I don't want to be anyone else's but yours;
I'm yours to hold.
I was forever yours to hold and forever will be.
The thought of you leaving me,
my cold battered heart where you once stood
is my deepest darkest fear.
I've never felt pretty or cute
never even close to beautiful.
But that is how you see me;
as some beautiful gem that
needs polished and cared for.
You're showing me who I really am,
the person beneath the surface
hidden behind her own walls.
With only knowing me a few months,
you've already captured my heart.
Not many have done that.
Was it because not many
want something as vile as it
or was it because you actually cared?
The girl you saw in the beginning
is who I used to be; the caterpillar.
This new girl who is strong,
your secret she will keep.
She didn't want the world
to see her because
she didn't think they'd understand.
They wouldn't understand her past,
why she is so broken and fragile.
yet through all of her broken qualities,
she just wanted someone to know
who she is and why she is that way.
She realizes she's far from perfect,
no one is made for or will ever achieve perfection.
She's insecure about almost everything
but he is changing that slowly,
giving her more courage and confidence.
She knows their relationship will be rough
but she once heard that true love
is a bond so strong that it cannot
be broken, not even by a thousand swords.
And that is what she has to hope for.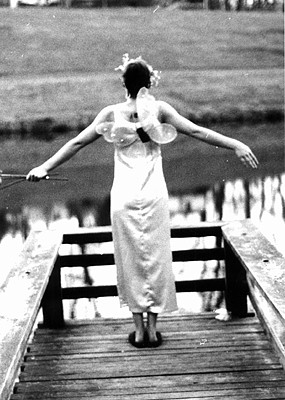 © Jennifer T., Cincinatti, OH