Fictional Diffusion
April 6, 2009
A girl and a boy,
Rushed out before dawn.
"Be gone you cretins!!"
Their step mother cried.

Led to a path amid gnarled trunks,
Grief stricken father bade farewell.
Rising sun cast silhouettes of fragile bodies,
Hand in hand, trees closing in behind them.

Eyes wide, observing monotonous details,
Gusts of wind blow through tree tops.
Creaking branches soon collapse upon themselves,
Revealing a body strung within ivy's.

With a spine snapping jerk,
Head rises without caution.
Rosy cheeks dulled from years of pain,
His sins lie upon weathered face.

He extends a mildew rotted hand,
Paints a smile upon unmoving face.
Termites creep along rutted surface,
Small boy never uttering a single sound.

Heavy head breaks free of control,
Landing with a thud upon the ground.
With a maniacal* grin,
The children are assured…
This puppet nose no bounds.

Distracted by an unearthly being,
As enemy creeps in for final move.
With a leap and a pounce,
Weakened bodies are overtaken.

Blackened serpent escapes parted lips,
Dancing along matted coat.
Tongue savors every drop,
Withdrawn from blood soaked fur.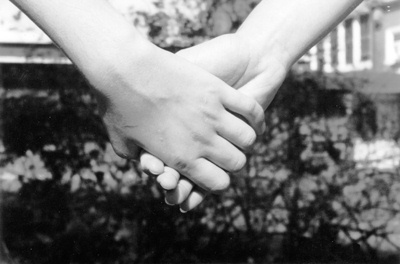 © Lauren G. Pompton Plains, NJ