Dear Brother
April 16, 2018
Dear Brother
This is to the scrawny bug eyed boy who is always curious,
always looking for answers,
for the truth.
Always asking why,
never afraid of the answer,
but a fear of the unknown.
This is to the boy who cowers,
when the door slams open at 7 o'clock every night,
not knowing what to expect.
Please understand that you are strong,
keep fighting.
Don't pay attention to the drunk man in the kitchen.
People change,
sometimes for the worse.
Some people are unrecognizable on the inside
but look like the same loving,
caring,
Happy person they were years ago.
Don't forget the good times.
The times your contagious rectangular smile was plastered on your face.
The times we would stay up until midnight,
quietly screaming slipnot lyrics,
forgetting who we were and that weren't the only people in the world.
Forgetting about the man passed out on the couch.
Surround yourself with people who make you burst out with your squeaky belly laugh.
Don't dwell on something that happened years ago.
Everyday is a blank sheet of paper waiting for you to fill it with a new story,
make it your own.
And when tears drop down your face,
and you feel like there is no point in continuing your life journey.
You are never alone.
Please remember the times we cried in each other's arms
until we broke out in laughter at each other's ugly crying faces.
Think about the bright smile on your face when you finish your creation of legos.
This is to the boy who is the strongest person I know,
you want to save others when you are the one that needs saving.
You give me hope that I didn't even know I needed,
but would not be able to survive without.
Remember the smile you put on your face for your crying mother,
giving her a moment of reassurance that everything will be okay,
letting her forget for a moment that her world is crashing down around her.
You put on your biggest smile,
wiping away her tears with words of love.
You are strong.
Don't forget that.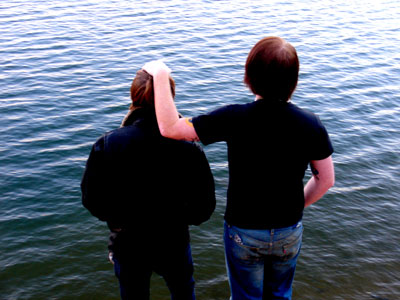 © Michelle B., Blairsville, GA