Beach Fun
April 14, 2018
I wake up to the wet tongue of my dog licking my face.
I'm getting my running shoes on, but it won't be a race.
My running watch is on and I'm ready to start.
I look around and see amazing sand art.
We make a deal to run down to the pier.
Then we'll have donuts, so have no fear.
My sisters and I hop into the car.
Krispy Kreme Donuts is not very far.
The sign up ahead says hot donuts. Hooray!
I can already tell it will be a great day.
Swimsuits on and ready to jump into the pool.
Oh how glad I am that I'm not at school.
The sun's hot rays are beating down on my head.
While at the beach, there is nothing to dread.
I grab my boogie board and race down to the ocean.
The gold sand on my toes is as soft as my lotion.
An old plane with a banner limps by high above.
It is advertising a restaurant that I really love.
I smell the salty ocean and hear the waves crash like thunder.
I enjoy the beachy sight, but I know it can sometimes be a wonder.
I'm soaking up the sun's rays on this bright and wonderful day.
I'm not sure which one, but it doesn't matter anyway.
I grab my phone, take a picture, and send it to my friend.
Watching my sister get a boogie board, she rides a wave 'till it's end.
We laugh and splash and run deeper into the blue sea.
I told her that she would never be able to catch me.
We walk down to the boardwalk to grab some ice cream.
My dog walks alongside us, this being her best dream.
Suddenly, I hear my mom calling me, "Wake up," she said.
Just then I realized I'd been sleeping at home in my bed.
I can't believe I've been dreaming of all this fun at the beach.
10 days until summer vacation and all this will be within reach.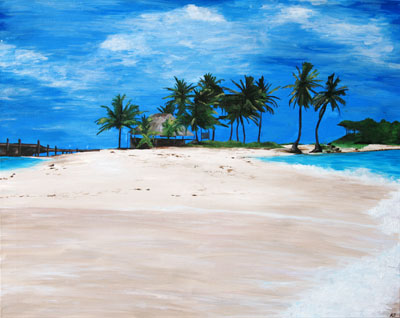 © Karen S., Norwalk, CT