This Song's For You
April 3, 2009
to the guy at home asleep on his bed
to the girl in her dorm with a song in her head

to the teens with the music turned up high in their car
to the heartbroken man sitting all alone at a bar

to the team and their favorite station blaring at practice
to the group of young girls whining over a song that they had missed

to you as you rock out to your music in your shower
to you who waits to call for concert tickets each hour

to the girl crying during that sad breakup rhyme
to the boy slow dancing with his girlfriend for the umpteenth time

to the group of girls trying to be the one-oh-first to call in
to all the ones who shout when their fave song comes on "ballin'!"

to the girl who's iPod just died on the train
to the guy who has that old song still in his brain

to the mom in the kitchen as she cooks for a party
to the kids running to class as the music sounds that they're tardy

to the music in the elevator of a far off business trip
to the song at the party by which you got your first kiss on the lips

to all the boys in their garages trying to rock out and be stars
to all the girls with their friends rocking out in their cars

to the chick out in Hobart who's loosing her love for the music
to the friend up in Ontario who knows never to loose it

to the painter down in Palm Beach as she lays in the sand
to the artist in Australia as she holds that guys hand

to the words of the verse that you just cant remember
to the melody you cant recall from late last September

to all the sad songs, fast songs, dance songs, and last songs
to all the lullabies, 'who's this by?'s and all the songs that make you cry

this is song for you.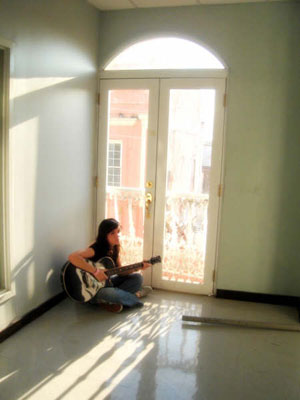 © Eveliz V., Bayamon, Puerto Rico