power
January 9, 2018

Your breathing is shaky
your palms are damp,
You sit in silence,
As you duck behind the ramp
Around the corner you peer
For seeing the shadows
That might appear
Your heart is racing
You're unsure of your next move
So you sink into the corner
Not knowing how to prove
People said this would never happen
But to you it did
Your thoughts are flooded
And a tear about to escape your eyelid
Amid the silence
You feel prepared
This is what your dad meant
When he said to not be scared.
You have been trained
And know how to fight,
Don't give up hope
Everything will be alright.
The gun is loaded
And ready to fire
He won't hurt you anymore
You've learned how to acquire
Stand your ground
This is your life
Don't let him take it
Even if you are his wife...
This is your moment
Of truth to be seen
Just be you
And ever so keen
Let him come to you
Now opens the door,
Take a deep breath
And aim once more
This nightmare is almost over
The pain has me numb
He's out in the open
And staring into my gun
The blood drains
from his rugged face
As he begins to plead,
For all my grace.
My heart is so cold now
My hands still shake,
As I look into his eyes
I know his words are all fake.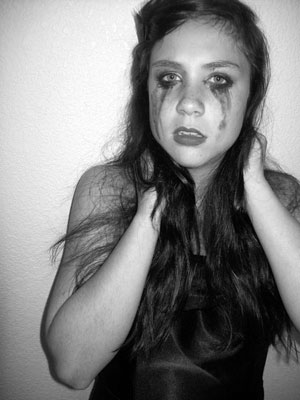 © Tiana D., Monument, CO