A Shadow in the Night
December 20, 2017
I hear my own footsteps
On the concrete.
There is no light,
I'm alone in the darkness,
Eeriness of the night.
Though I try to prevent it,
My heart beats like a racehorse
Increasing speed by the second,
Competing with no remorse.
My coat provides no warmth
To the terrifying feeling that eats at my core.
I remind myself,
While shivering,
Not to take this path anymore.
It is impossible to see,
Yet I notice something
Coming 'round
Next to me.
Instead of beating quicker,
My heart completely stops
I begin to feel sicker
Then I already was.
I move at a different pace
Faster and faster
The way sprinters do
In an Olympic race.
The thing was still there,
It didn't have an outline,
Smell,
Or wicked stare.
It was more of a sense,
I felt it inside,
I sweat and slowed my breathing;
Then lost all my pride.
I wanted to get home
Away from this beast.
I wanted to be far;
A mile away at least.
I wanted to escape from the cage
The shadow put over me.
I wanted to get be safe
From the shadow in the night.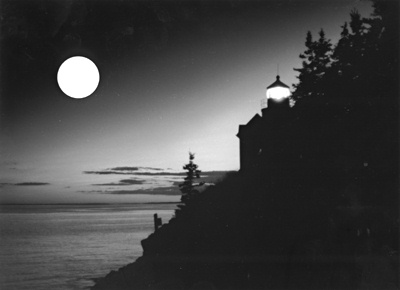 © Steve S., Marblehead, MA