The Veneered Warrior
October 25, 2017
Confident and well-groomed the fighter stood;
With clothes spotless gives aura of manhood
A soldier of tremendous wealth and fame,
His beard well shaven and his hair stays tame
A selfless servant of the noblest cause,
Never fails to sacrifice without pause.
As others of his kind are drenched in dirt,
He remains unblemished in skin and shirt.
With face unscathed and neck as light as day,
When life is on the line his pride decays
In the midst of a troop's greatest struggle,
Warriors vanish amongst the rubble;
Yet this well-renown stud remains hidden;
Bribes cause ethics to be overridden;
A father's wealth acts not as a blessing,
But a path to constant rule finessing,
Greed drives his superiors to accept,
Along with his fathers legacy kept,
Who's genuine steps not solely earned wealth,
But rewarded an unworthy son's stealth,
Aided simply for bearing a name,
He leads marches with undisputed fame
Thus his grin may suggest satisfaction,
But revealing eyes display a fraction
Of a man who's used privilege to abuse,
A job whose high standards are not abstruse,
Status trumps virtue by some distance,
While his peers proceed to risk existence.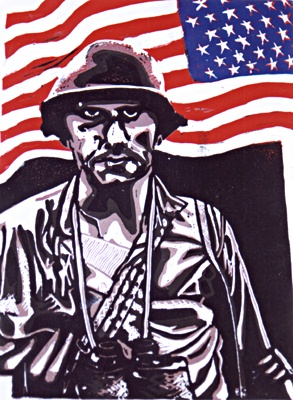 © Troy W., Kannapolis, NC