Here's Two
November 6, 2017
Here's one clap
Clap once
for us poets.
Clap twice
Now here's two.
Here's to those of us who feel everything so deeply
Everything so completely
They eat paper
And bleed ink.
Clap Twice
Here's to the people who write
Because they can't speak up
Speak out
Speak loud
About how they feel
And about how they want others to feel.
Clap Twice
Here's to those of us who lock lips with anxiety and
Who feel, not just a variety but
A whole buffet of emotion
So whole
So entirely and
We beg, kneel and pray that the next verse we spit
Wont just move mountains, it'll move forces
Ten times the mass
That our voices
Can move the hearts of others because
Poetry.
That's our deity.
Clap Twice
Now Here's to the people who don't play by the rules of the game who
Got wild thoughts
Wild hair
Wild clothes
Wild imagination and
Everythings wild 'cause
They don't know the meaning of any other word and
Those who aren't afraid to be loud
Be heard
Those who are okay with being turned
Inside. Out.
Claps Twice
Here's to the legends who don't got red and blue veins
They got red and blue lines
Coursing through their body
And we celebrate
Because you can be
Latino
Asian
Gay
Straight
Female
Male
Non-goddamn binary
But we all feel the same and
We all got emotions
And stories to tell
So we celebrate being so universally in sync with eachother
With these lines in our body
And this fire in our soul
Because poetry is the oxygen and
These lines are our home
My feelings are the kindling
And my words are the smoke
So we spit it out like a bad seed
Because the rhymes and the flow are what we sow
Picassos of Literature we are
And these universal truths are what we reap
Clap Twice
Here's to
For those of us who are raw
And what we do is real
Cuz we get up more than we get knocked down and
Instead of fighting
We listened to our lord when he said
"LET THERE BE WRITING"
So we don't have fists in our hands
We have pens.
And we don't have hatred in our souls
We have a poem.
I want you to clap twice for me now, because the obligatory applause when I finish
That's to you.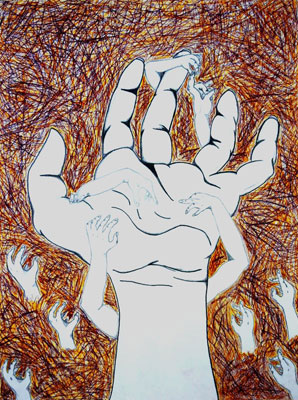 © Ariana R., New Orleans, LA