This Isn't About Shoes
March 26, 2009
One rainy day, my credit card I took

In search to find a new glamorous look,

Jimmy Choo's I spotted from afar,

Their sight caught my eye like a bright star.

That glorious sight of shoe next to shoe,

No woman dare cross paths from me to you.

Getting closer, the price tag caught my eye,

With fear to look, my heart began to cry

To pray that maybe they were on sale

And not to leave my wallet too frail.

A suited man came from behind,

And grabbed my shoes and left me blind.



Not watching him give away my divine,

I cursed the woman that took what was mine.

I spotted them first, that very last pair,

And cried out to God that it was not fair!

I saw them first, where did she come from?

Not to make a scene, I bit my thumb.



I was left looking at an empty shelf,

No one and no boots, just me and myself.

And on her feet my pumps now lied,

I could not look I nearly died.

She strutted around with her delight,

I had to leave or would start a fight.



My closet floor at my Keds I stared,

I needed Choo's nothing compared.

The old, dull fashion needed to go

I would give them all up: quid pro quo.

Under my feet no shoe would sit,

I wanted Choo's I would not quit!



Without them I was at a loss

With them I would be Kate Moss!

I would have worn them everywhere:

To dinner, party, in bed I swear.

Without them I would lose my sanity,

I do not care about my vanity.



Back to the store I would drag my heart,

To spend all this money, was it smart?

But I was fixed on finding those shoes,

Honestly, what did I have to lose?

Maybe there would be another pair,

Hopefully God would answer my prayer.



Saint Anthony I prayed, for I was lost,

I would buy these shoes no matter the cost.

He must have heard me say my prayer

Because I found another pair!

Now they were purchased and paid for too,

They were all mine, thank you Jimmy Choo!



My heels were a prize I could call my own,

Words can't describe; my happiness is unknown!

There is no greater wealth then this,

Pure vanity is my own bliss.

My life is now fully complete,

My treasure lies below my feet.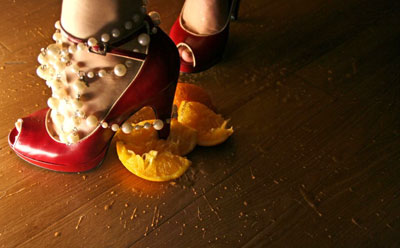 © Amber L., Carpinteria, CA