I Have A Dream Remix
March 26, 2009
I would like to commend to all my fellow shadows of me, my friends, my family, and my lover in my relationship. I have a nightmare, not just any type of nightmare; this nightmare is a precursor of dark faith, and hopelessness. My vision is far from the truth of love and the true pursuit of happiness. The true meaning of a dark evil shadow's prophecy will be forcibly learned before you cross over to the underworld. And if you already know, then you won't forget it, because this is my nightmare.

I have a nightmare; that one day this pleasure realm you call a world, that you call earth, that some of you even call your home; will not be real. For all of you that believe in peace, love and the pursuit of happiness will no longer exist. You will no longer control your own life and destiny. In this world you will no longer be your self or live a civilized lifestyle. In this nightmare your lives and souls are mine to keep. In this nightmare there is no you. So my question to you; is who are you?

On the tragically date of February 7, 2008; my nightmare was no longer a nightmare…. but a fear. For now on I have been having a fear that my love life would no longer exceed the evolving destination. That a venomous dark force would corrupt my inner most personal life. My life would become mischievous, and would have one main focus point… to corrupt the lives of many innocent people who's only purpose in life is to succeed through their goals. I have a fear that one day my goals, my likes and dislikes, and even my sins and accomplishments, will come back to haunt me. Why was my nightmare transforming to this unknown disease called…. Fear? I do not know and maybe I never will.

I have a fear that one day every state will discompose. Every capital will be burned down and forgotten. And that all the populations in this large land we call the United States will fade away and will never ever be brought back, and will never come back to haunt us. I have a fear that the United States will be no more. What has happened to my nightmare?

I have a fear that I once was evil and had a dream. Not a dream but an nightmare. Not a nightmare but a fear. A fear that took every reason that any thing should exist, the fear, took it away and caused it to crash and burn. I have a dream that one day LOVE, PEACE, and THE PURSUIT OF HAPPINESS, no longer be just a dream, but a wish upon a star.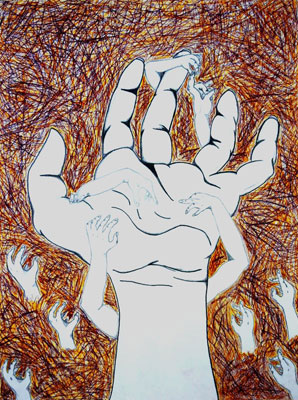 © Ariana R., New Orleans, LA