Better In Heaven
September 25, 2017
The day that changed my life. A time full of emotions. My Papa had a bad fall; this was the day that lead to the last days of his life. Over a period of two weeks, there was a lot of emotions that had taken over me. There wasn't one other human being that I had been closer to than my papa. Him being my best friend and going into the hospital took a toll on me. On and off throughout my life, my family had lived with him multiple times. He was already suffering pancreatic cancer and had almost been through with chemo. He was weak and of course some days were better than others for him. He definitely wasn't a home body, he loved being out and doing things. Our favorite thing to do together was to garage sale. I never really got anything. I just went with him because it was so much fun for him and it's what he wanted to do. He loved buying bullets in Kalamazoo and reselling them to people. That day, as he was bringing the bullets inside, he fell up the stairs.

My whole family was next door sitting pool side my aunt's house; she got a call and ran out of the house. My family had lived at his house at the time and my stepsister, Cindy is the one who found him. He was laying on the floor and could not get up. I didn't know what was going on until everyone was outside and the ambulance was at my papa's house. I asked someone what was going on and they had told me he hit his head when he fell going up the stairs. I stood in the driveway of my aunt's and started to cry. Wiping the nonstop streaks of tears rolling down my cheeks, I watch the ambulance roll by. Sobbing and catching my breath I walk up the stairs and back in the house.

Within the next couple hours, I had went to the hospital. I sat in the waiting room longer than I had sat in the room with him that night. There was nurses and doctors in and out of his room, and also him being taken for test every half hour or so. I just sat there waiting to be able to see my best friend. Finally, after two hours of us just glancing at each other and him knowing I'm there we got to finally just sit with one another. We didn't get to sit together long because I had to go back home and help there.

The next day, I had went back to the hospital early evening. He wasn't really talking much. I could tell he was in pain. As soon as I walked in his room he winked at me. My smile could have lit up the room when I saw him wink at me. That moment will forever be in my mind My uncle was trying to make small talk with him so he didn't feel like he had no hope at all. He just kept smiling at me. My papa then asked me to come sit on the bed with him and he just held my hand until it was time for me to leave. As I got up to leave he handed the his watch that was on his wrist. I gave him a hug and a kiss and walked out of the room he was in. The tears started to roll down my face once again. It didn't feel right leaving him even though there was still people with him. I wanted to be with him because he was my person.

That routine was repeated everyday for about two weeks. He kept telling me he would be home soon. I never doubted that he wouldn't be because he always came home after he had been in the hospital. No matter what it was he was so strong. I thought he could make it through anything. He never got any better, only worse. He was bleeding internally in his brain. The doctors tried and tried but there was just nothing they could do. He was too weak for any surgery. He suffered. He was transferred to Hospice.

My family and I went and visited him there the first morning he was there. He looked pale and skinny. All my siblings went in, I stepped in the room and walked right back out. I had started bawling as if he had already passed. I couldn't get it together so I didn't go in right away. I finally got it together and walked up right next to his bed. I pulled a chair up and as I sat down i felt a weak grip grab my hand. I sat there blinking as fast as I could so the stream of tears didn't come rolling down my face. Even though I kept the streams from falling down my cheeks, I couldn't keep the single drops from falling down my cheeks. He held my hand for about two hours. My family decided to leave but my sister and I stayed there with my aunts and him. I didn't leave his side all evening until I had to go home.

That night I asked my dad if I could go back with him in the morning and he said that I couldn't because he was doing well. I begged and cried to please let me go. He responded that he did not want me to see him doing that bad. I took myself to bed, wept and prayed to God that He kept him on this earth because I couldn't do it without him.

The next morning by the time I was awake my dad had already been back. I wasn't even aware he already went to see my Papa. I finally asked him, "Have you went to see Papa yet?"

He responded, "Yes, I went and saw him this morning."

I asked, "How is he doing?" My dad called all of us kids into the dining room. I started to shake and my heart was in my stomach. I wasn't crying yet because I just had a tiny bit of hope that he wouldn't tell me that my Papa had just passed.

My dad looked my in my eyes and only me and proceeded to say, "I saw Papa this morning and unfortunately he didn't….." I started screaming as I collapsed to my knees. He didn't even get to finish. I ran into my room and screamed. I couldn't breathe. My dad came and picked me up and laid with me. He told me my papa is with our savior and not suffering anymore and he held his hand while he passed.

This day I still have trouble with his passing because he was the person I went to for everything and life got hard when he passed. Our family fell apart and we all stopped talking. He was the glue to our family and would be ashamed if he was here to see it. I miss him more than anything but he is in the good Lord's hands and I know he is doing better than ever.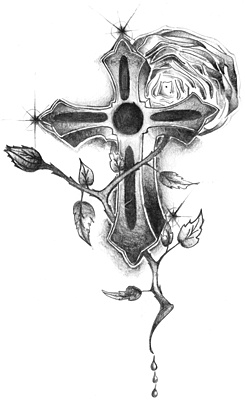 © Ricky P., Natchitoches, LA