The Last Night Of Many
August 26, 2017
I still remember the last night
We spent together.
Our fingers intertwined
Like a perfect puzzle
Depicting a fairytale.
You were the king
And I was the queen,
Before the dragon came,
And burned the whole village down.
You held me like there was no tomorrow.
I could smell your fresh cologne
That always seemed to permeate the air.
You kissed my head
And whispered in my ear,
"I will always love you,
Doesn't matter the distance."
And I actually believed you
Because I was young and naive.
You looked at me with those crystal blue eyes,
That had miles of the ocean
contained in them forever.
You enraptured me
With your 'perfect boy' charm.
And on that last night,
I smiled like I have never smiled before
Because time was stopped
And everything was pure.
But smiles have to fade
And fingers have to untwine
For life to move on
And hearts to break,
Only to be put back together again,
By a night you will never forget.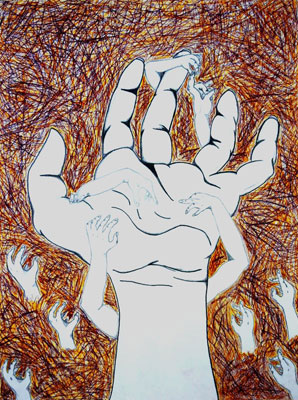 © Ariana R., New Orleans, LA