Catch me
March 20, 2009
Can't you see I want you?
I need you
You are my only friend I try not to make it obvious,
But I can't help it, you appearance makes me smile.
I know what you say about me… You think I am too bubbly
But I don't care what you say because all I am doing is expressing my feelings.
I am not going to change who I am for you to be satisfied, if you saw what you have in front of you of would of grab it already. What are you waiting for?
Catch me and hold me for ever and never let go!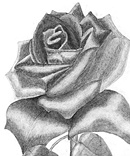 © Nghi L., Phoenix, AZ