Road Trips
May 10, 2017

"What's with that frown?"
Her mother asked Miss Emily Brown
"I do not not like road trips, I do not like them one bit."
My back hurts, my butt is numb.
I have a paper cut-small, but wanting to be felt-on my thumb.
The trip is long, the car feels hot,
I can't untangle the headphones I bought.
My brother-more like an annoying banshee-continues his yelling in my right ear.
My sister's music-blasting from her headphones-becoming all I hear.
My bladder-for the last twenty minutes-feels full.
I would rather be in school.
"Where's the next rest stop?", asks Dad.
"I don't know. I just have to pee really bad."
I can't feel the AC
I don't have my glasses, I can't see.
The space is tight.
My brother kicks the back of my seat all night.
"EW! It smells like feet!"
"I have to let them breathe in this heat!"
My brother waves his toes in the air.
I can't breathe, but he doesn't care.
We overpacked,
my neck just cracked.
Oh my word, I just saw the sign.
100-tedious and agonizing-more miles until we can dine.
Slowly, time passes by.
Someone please swat that fly!
Yay, now twenty more miles to go.
Jeez, we're going really slow.
Finally, the trip is done.
I shot out of the car, run run run!
To the bathroom,
to the bathroom!
I race through the door,
while throwing my stuff onto the floor.
"I call dibs!", screams my brother.
"Too late!", I yell to that bother.
Then for a long while,
I unpack my bags and throw them into a pile.
"I'll clean that up later.", I speak out.
I clamber into bed. Down for the count.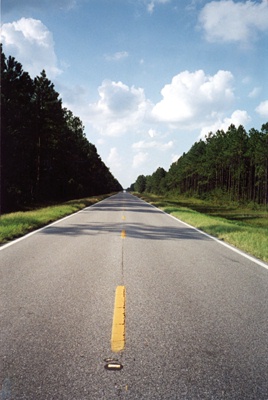 © Amanda M., Coventry, RI