A new life.
March 17, 2009
If giving up is so easy, than why am I so hurt?
I try to make things better, turns out i make them worse.
I never thought I'd do this, only because i care a lot
I'm gonna tell you that we are done
and nothing can make me stop.
I'm tired of all the lies you've told
I'm tired of faking smiles
I'm done for good this time
theres no more "break up for a while"s
If you know exactly what you put me through
if you know the pain I'm in
then why are you repeatedly doing this to me, I'm sick of giving in.
Being with you, my biggest regret
"I love you" your biggest lie.
I'm not gonna act all depressed and moody
'cause guess what? i don't wanna die.
i have things i wanna do in life,
theres people i wanna see, places i wanna go
i have in mind what i wanna be
i may not be the smartest
but I'm smarter, so much smarter than you
loving you used to be a priority,
Another thing i don't have to do
i know it'll hurt me more,
more and more each day
but my heart is healing from the cuts you created
thats really all i have to say.
but just because it hurts, doesn't mean I'll take you back
i have to get my life together
I'm taking my heart back.
i could fill this paper with words of hatred
words of fear and death
but this is a new phase I'm in
so no poems like that yet.
erasing all my thoughts, forgetting you, I'll start
I'll do what you say you do, block feelings from your heart.
I'll pretend that this doesn't bother me, and work on things that do
I'm giving up on you because i really never loved you.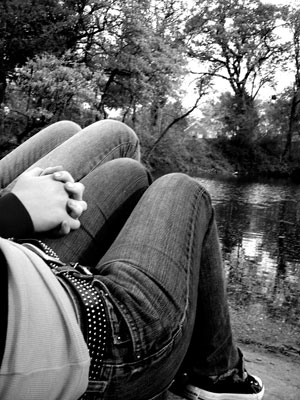 © Lauren R., Edmond, OK