Born to Race
March 20, 2009
Impatiently, I stared at the dark grey gate.
Waiting to hear the booming gunshot;
Listening to the other nervous horses around me.
Bitter sweat dripping off my jockey's face.

Feeling the whip pierce my bare back,
Trying to run as fast as I possibly could.
Fear staying so little far behind me.
Some other horses shrieked in pain,
As their hoofs hit the hot black track.

Colorful people watching mindlessly,
Not realizing the pain that is devouring us all.
Barely able to feel any traces of fear,
Over all thoughts of winning.

Only one hot stretch of track to go.
Horses pleading just to stop,
But yet knowing they can't.
Hearing the other hoofs behind me,
I keep my concentrations.

So far still in first.
No other horses left to fly by me.
The feeling of glory pulsing through my veins.
A few more quick strides to go.

Standing still in the winner's circle.
My hoofs and knees searing with pain.
One thing left to do,
Go into my stall and flop down.
One thing left to hear,
All the heartfelt congratulations.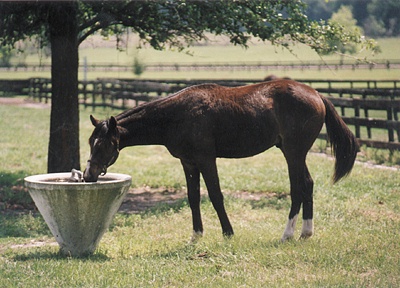 © Ashley K.,New Port Richey, FL