Hate
February 18, 2009
(English)

My beauty may seduce all men who see
Yet my life is that of a dream.
The nightmare I see has become part of me
And I've become hideous to sight.

Oh, why must I suffer as nothing
But a monster who dwells in the night?
Why must I bear with the knowledge
That I am a ghost, a ghost without thought.

For the beauty of the rose is forgotten
When I look upon my reflection.
For what I see cannot be me
Since it is a monster, a ghost without heart.

(German)

Meine Sch'nheit Mai verf'hren alle M'nner, die sehen
Doch mein Leben ist, dass der ein Traum.
Der Alptraum ist zu sehen, ich ein Teil von mir
Und ich habe zu scheu'lich, um den Augen.

Oh, warum muss ich leiden wie nichts
Aber ein Monster, der in der Nacht?
Warum muss ich tragen, mit dem Wissen
Dass ich ein Geist, ein Geist, ohne Gedanken.

F'r die Sch'nheit der Rose ist vergessen
Wenn ich auf mein Spiegelbild.
F'r das, was ich sehe, ist nicht zu mir!
Da es sich um ein Monster, ein Geist ohne Herz.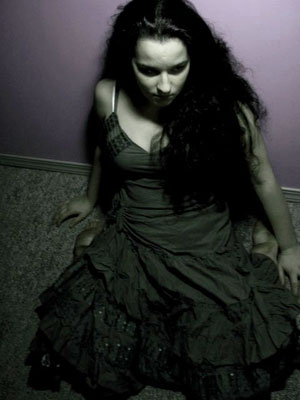 © Brianna D., Everson, WA