Things Forgotten
February 11, 2009
I wish that I could separate myself from this life
Free from the expectations of society
Free from what they ask of me, because it's just too much
I'm just flesh, I'm just bone
Yet somehow I've become this representation of their own self disgust
And they cast off all of their sickness on me.

And here I am on the gurney
Pale and slowly waning, like the moon
Suspended out of reach in the dark
They scoop out pieces of me, marring me with dents and craters
Flesh and blood, I bleed
Until I became a cold lifeless being out of sheer necessity
Yet, still, they jab the needles in my arm
They run a few tests to make sure they've obliterated my self confidence.
The results remain inconclusive.

But I'm so invisible, so painfully minute in the scope of things
That when they pretend I matter
I respond as if under attack
I turn away, trying to protect this heart of mine
Feeling as if it has escaped the safe haven of my rib cage
Bloody, pounding, beating for all to see
That cruel sort of vulnerability.

They can say whatever they want, and this lack of control is killing me
I just want to be the puppet master, behind the scenes, orchestrating this life
And those dull eyed marionettes with their gemstone eyes
Looking up at me with a sort of blind idolatry.
Somehow, that would make me feel safe
I feel foolish saying it, but there would be no variables
No x, y, z, it would be just what I make it
I would strip everything down to bare bones
Make it all so easy
No innuendo, no subtleties
A true tribute to honesty

That cold relief you feel when what must be said is said
Society's complexity, like the stone covering the tomb of Lazarus, is removed
We let those thoughts, dead and dormant and rotting, in waiting
Resurrect themselves in the form of the spoken word.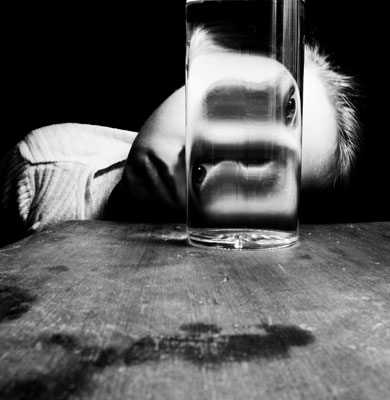 © Sarah M., Blairsville, PA