Living on a prayer
December 1, 2015
Through the streets of pavement grey,among the city hustle
She and her young brother slowly shuffle
Tapping at car widows,looking through the glass
Coins dropped near their feet or tossed to their path
Faces pass, ignoring the eyes of hunger
She hunts around, a meagre meal for her brother.
But alas! The day is done and the sun begins to set
Hand in hand they trudge in the rain,slippery and wet
Through an alley awaits a home of tin and board
That is their life,that is all they can afford.
She pulls out the loaf of beard she wishes they had bought
The baker had run behind,but she was not caught
They eat in silence,no words need to be spoken
Silence has a sound,yet it seems to be broken.
Together in a huddle,they get ready to sleep
She could not,it was cold,all she could do is weep
She listens to her brother's soft breathing
She closes her eyes,let it be soothing.
May tomorrow be a blessed day
Every scrap of bread, let it come our way
Pray for the sun,birds and blue sky they say
Pangs of hunger and loneliness for them are far away
Day after day,night after night
This is her prayer,to live and to fight.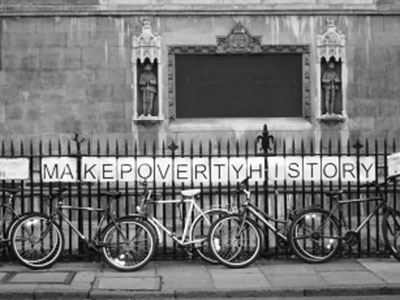 © Katherine S., Agoura Hills, CA