Blood of the Game
January 14, 2009
Blood of the Game

Walking from the white, blue, and yellow tile
Of the locker room to the cement of the sidewalk
I hear the click-clack of metal cleats.

Family and friends line either side of the carpet
As I walk towards the field.
When I get past the gates, the field opens up to me.

Every individual piece of green plastic turf
Glistens in the light that comes from the wall of light bulbs
That tower above me.

As I break into a jog towards the center
I can start to hear footsteps climbing the bleachers
As the crowd files in.

The team gathers in the center
Yelling and cheering ring into the crowd.
It gets louder and louder,
Then suddenly stops.


The stadium food rushes over me in the breeze.
The smell of the hotdogs and the smell of the popcorn
Fill my nose and hang on my tongue.

I start to feel the blood pump faster
As it struggles to get to my fingertips
Through the heavy cast of tape over my wrists.

It runs hard through my shoulders,
Up my forearms
And thumps through the tape with one final push.

The cold, brisk, October night fades
Now that I'm breathing heavy
And sweat is running down my face.

The cold that made my hair stand up
Has turned to heat that makes sweat
Bead across my forehead



The crowd roars when the team returns to the field
And I can't help but smile
While I run to the middle of the turf.

The feeling of pride and accomplishment fills me.
All other thoughts of the day
Have blown away with the hotdogs.

I feel my cleats grab the rubber of
The turf and toss it back at my calves
As I jog.

The sideline is cold as I stand
Watching the kicker set the ball.
I feel anticipation

And my fingers twitch.
Adrenaline floods my veins
Muscles flex tense.

Then, finally
Running,
The foot of the kicker makes contact with the ball to start the game.

The clock ticks off time.
The scoreboard adds points.
The crowd cheers as the last quarter ends.

After the final whistle blows
The crowd disperses to parking lots.
The other buses leave.

And walking from the cement of the sidewalk,
To the white, blue, and yellow tile of the locker room
I hear the click-clack of metal cleats.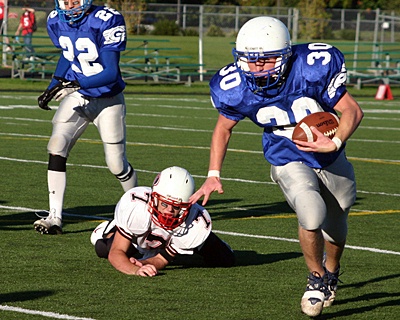 © Rachel K., Gresham, OR