Moondance
December 15, 2008
The forest beckons, a cold, slow moan,
I walk to the path, hardened, alone.
The voice of the trees whispers echoing sounds,
My body's closed in, but my soul knows no bounds.

I hear the beat of a deerskin drum,
It softly resonates with a heavy thrum.
The shrubs step aside, the branches part,
And there, in the forest, I find my heart.

Here, souls conjoin in a flurry of haste,
The damp and the dark, an acrid taste.
It burns the nose, it sharpens the senses,
And in the light of the moon, we drop our defenses.

The crescent moon gleams in an eerie glow,
The night never moved so thick, so slow.
I find a partner, and as if in a trance,
Our souls morph to one, and we start to dance.

The movement of steps keeps perfect time,
The drum beating faster, in wind and in rhyme.
The caress of the moonlight is softened and silky,
Its tendrils cast ribbons of white, almost milky.

We dance altogether, the forest gives way,
Like glittering, gleaming, glowing fairies, we stray.
The stars twinkle overhead, the blind sun goes dark,
And we're forever branded with the crescent moon's mark.

The deep cover of the forest protects us from all,
Souls are lost in the midnight's fall.
But my partner and me, we keep to the side,
Our humility saves us from those with more pride.

The moon flickers slowly; it will soon burn out!
The greenery swells in a rumbling bout.
The drum crescendos, all souls are lifted high,
Trapped in as stars, till the night they untie.

The only souls left are the ones in the dark,
Though we soon break away, we all have the same mark.
And secrecy all of us still here shall feign,
'Till the moondance starts up in the night's call again.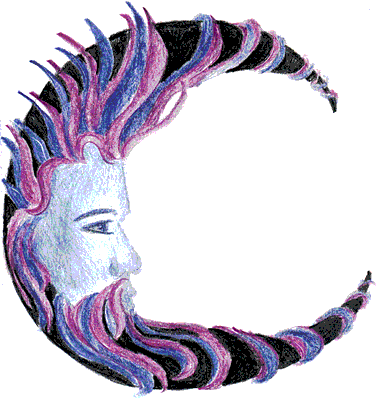 © Vanessa M., Glendale, AZ