Make Use Of Your Time
October 23, 2008
in a most frantic way i breathe,
the wind rides my shoulders, and i run to the end of time.
no ticking, tocking, talking - cherished silence before me.
where i was before, the chatter brought me to paralisys.

they taped your mouths shut, but you screamed anyway,
tied your hands behind your back, still you struggle with rules and regiem.
i witness the lost of your esteem, your power today.
rest your sleepy head, for tonight things are not how they seem.

i looked for you in every place i knew,
the confusion led to a revaletion of a new breed,
you've come such a long long way with your crosses and blood,
tell me, the souls you claim to save, do they now recede?

take me, free falling with the absence of gravity,
soft hands can be decieving with the absence of strife.
what is this but perfidy?
what is this but life?

in this lie of a day i cannot conquer,
with insistence upon communication, how do we go wrong?
i am forever changed, you are ambivalent.
in a most placid war, i clutch to anything nailed to the ground.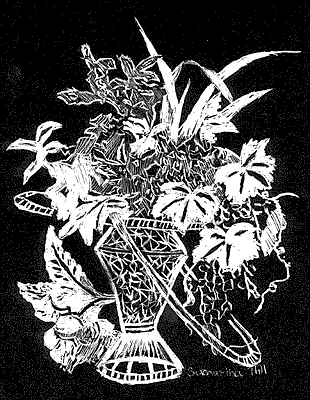 © Samantha H., Gulfport, MS