Swimming
October 14, 2013
Splash!
Hands above head,
forming an aerodynamic figure.
Diving straight down,
into the sparkling water,
wearing our bright green goggles,
that never stay on.

Swimming,
one by one,
deep down,
to the bumpy bottom of the pool.
Each reaching down,
arm fully extended,
hand opened wide,
grabbing diving stick,
after diving stick,
seeing who can get the most.

Hand gripped onto the hot metal handrails,
we stepped onto the rough stairs,
to pull ourselves out of the water.
We reached for an ice cold coke,
to cool us down.

Friends and I stretched out,
with arms and legs extended,
like a starfish.
Lathered in tanning oil
from head to toe.
Not wanting scorching summer days,
with family and friends to ever end.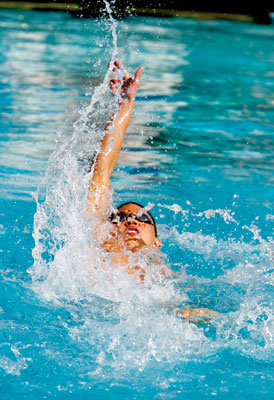 © Wenting C., Fremont, CA