The Perfect Body, Distorted
August 30, 2012
I can't see my reflection clearly in the mirror before I stand.
It is there, of course, but my perception is blurry and so it passes through my brain like a mere glimpse only of who I was before.

I am not me anymore.

And although I should know this, I refuse to believe it. I tell myself over and over again that I'm fine when I'm not. The meaning of beauty has become unknown to me-forgotten. I don't know what or who to believe anymore. I can't trust the media, my parents, not even myself.

This is the new me. I am like dust, slipping away in the wind. I feel as though if one person did so much as to touch me, I'd disappear. I'm lost. I'm scared. And somehow I don't care. Because the voice inside me tells me this is normal. That if I want to control my surroundings and my feelings I have to do this. I'm reaching for perfection.

My stomach rumbles, but the emptiness it feels gives the voice in my head so much satisfaction, that I leave it be. My brain feels lightweight and when I walk I feel faint but I keep going. I'm going after the unrealistic goal I have set for myself: to be super thin. I try to be smaller and smaller but it never feels like it's enough. So I keep on going. And going. Meanwhile, my life passes me by.

I don't like this. But I don't want to go back, either. I'm too scared to do that. I want to feel in control, when really I'm hiding from everything-my feelings, the guilt, the insecurity.
And really,(although I don't realize it yet) there is still something or rather someone who's unconsciously being controlled here.

Me.

I have given it all up-my friends, my family, my health, my grades, my faith-all for this.

And as I stand here looking at my tiny, sickly, bony body, I ask you the question: Is it worth it?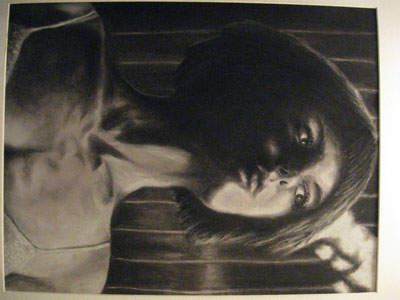 © Melissa W., Fayetteville, GA