Erykah and the Epithymy
May 23, 2012
"I'm a recovering undercover over lover."
Intense shivers,
The withdrawal process,
A ritual that's become too acquainted.
I pull the invisible shawl
Of a "Maybe next time"
Over my shoulders.
Thinking about what we could have had
Was my heart standing in
Sub-zero conditions,
Blowing its breath out in the frigid air.
One can so easily be deceived,
The condensation on a December's eve
Looks an awful lot like the smoke from a fire within.
Tectonic puzzle-pieced memories
Move together as I riddle myself
With where we went wrong.
A tremor starts in my inner core,
But, these aren't cold shakes.
"Recovering from a love I can't get over."
I've hit the bottom of this pit
More than once before.
And, just like every prior fall,
I thought I wasn't alone.
I hear too often,
That if you do it by yourself,
You're an addict.
The grey area of false-start fakeouts
Only counts the first time.
I put too much trust in
Your feet leaving the ledge
To be here at the bottom
Watching you stare over the edge.
Insanity is
Doing the same thing
Over
and
Over
With the expectation of different results.
I realize I'm
Out my mind.
If only it was Just in Time.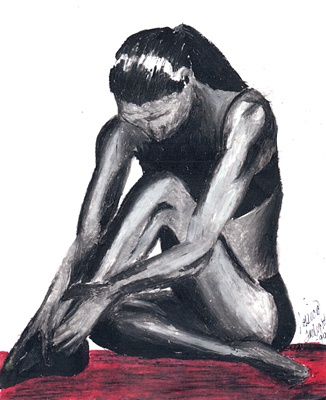 © Jessie Y., Ahwahnee, CA