The Simple Man
May 10, 2012
As the sparrow's morning song travels through the trees,
the calm glow of the sun peeks up to brighten a new day.
Cold dew sits among the lush grass with a cool breeze,
and a small pond's ripples flow slowly as the cattails sway.

A small fishing pail sits on an old wooden crate
and a man of simplicity rests in a rusted chair.
He holds a grey fishing rod as he hooks the squirming bait.
Whether he catches something or not, the man does not care.

Far out on the water is where he lands his cast.
Sitting, he waits like he has always done before.
A small fish tugs on the line then leaves just as fast,
but the man just closes his eyes and waits some more.

It does not mind the simple man to have to wait and sit
because he enjoys the fresh air and the peaceful thought.
A fish is pulling the line again and does not quit,
so the man calmly reels it in to see what he had caught.

The fish is too small so he tosses it off land
then he slowly folds his old, chair and puts his hook away.
He starts back up the trail with his pole in his hand.
The sun is fully risen so the man begins his day.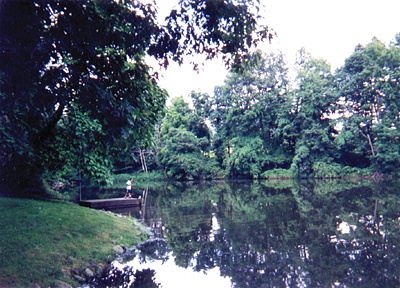 © Amber C., Fair Oaks, VA