My Mother Dear..
April 13, 2012
The nine careful months of gestating,
All those days of praying and prostrating,
For my wellness and a blissful birth;
For the feeling of mere maternal mirth.

Going through those untimely pains,
Facing some little hurting sprains,
Living all those months with special care,
Wishing that Lord listens your prayer.

And came the twenty-fifth evening of June with great worth,
The first day of monsoon mist I blossomed on earth,
How blissful! the warmth of your arms,
which saved me from the miserly harms.

The wind sighed saying an untold story,
With your blessings for my perpetual glory,
As the raindrops falling time to time,
They sang an unsung rhyme

The months of teaching with blessings and love,
Treating me as an angel sent from above,
And the day when I firstly called you "mom" dear,
With a pleased smile you did shed a tear.

The uncountable days of bliss & joy,
Playing with my favorite toy,
Laughing all day with elder brother,
And sleeping in your arms, my lovely mother!

Creeping and walking through the gate,
The sweet pulpy casabas I ate,
Looking at you from the kitchen door,
Running for a hug did fall on the floor.

And I cried aloud after that silly fall,
You came running to hold up your doll,
Picked me up so high!
Felt like flying in the endless sky.

I remember the first day I moved to the market,
Walked holding your little finger, can't forget!
Having a sweet biscuit through the way,
Asking a thousand questions all day.

How fast and speedy I did grow,
You looked amazed with a stretched eye brow,
How altering, I did speak and walk!
You happily enjoyed the baby talk.

Then the school bells did melodiously chime,
I did learn my favorite nursery rhyme,
You chuckled at my each silly mistake,
And taught me to be string enough, that no one could break.

Time passed by and I grew some more,
Now you didn't hug me or kiss and adore?
But no matter because you have always been the best,
I simply admire you and forget the rest.

You made me stand invincible and brave,
No matter how high rises the sea wave,
Your blessing is all that I need,
Oh mom! You have been so strong indeed.

So it is a promise until I die,
This daughter won't ever let a tear in your eye,
You've made me strong and now I don't fear
Anything cause I adore you, my mother dear..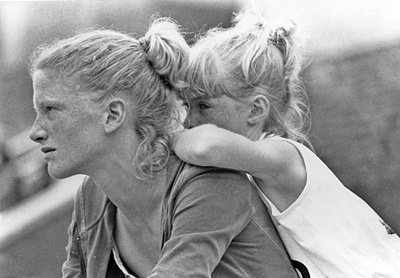 © Felicia F, Marlow, OK