The Garden of Magnificence
April 3, 2012
Beyond the silver intricate gate,
Unbelievable beauty awaits.
Through the cool mist, the sun's rays,
Light up the cobblestone path all the glorious day.
To the side there is a grove of crimson roses,
Which gives away an enchanted aroma to delight our curious noses.
Emerald green grass flows delicately in the cool breeze,
And makes a perfect picture that is sure to please.
Little brown sparrows sing songs of jubilee,
And the flowers are visited by the humming bumblebees.
Past the tree of saccharine pear is a babbling brook
Which is hard to pass by without taking a look.
Its crystal clear waters reflect like glass,
And bright colored koi fish glide under the surface in a mass.
Over the mossy pond you can see,
Leaning over the water a weeping willow tree.
The weeping willow denies its name;
Its branches of jade do hang down, but not in shame.
At twilight the garden grass glows with luminescence from the moon so pale,
And you can hear the beautiful song of the nightingale.
Finally the garden is covered by the blanket of night,
But even in the dark, it is still an enamoring sight.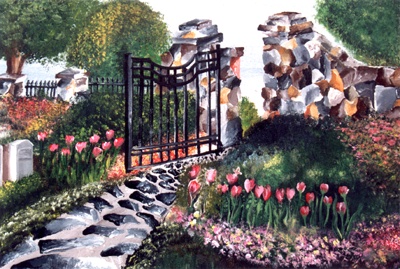 © Anabel T., Kannapolis, NC