My Memories Of You.
January 20, 2012
I Still Remember The First Day We Ever Met. It's Like It Was Just Yesterday. You Were Net Fishing At The Pond, Lol, You Loved Too Do That. Anyways, My Sister Pointed Over And Was Like "Hey, He's Cute!."..And I Was Like Oh Yes He Is..=P..Lol So I Went Up Too You..And That's Where It Started..The Friendship..I Could Never Forget, A Relationship That Changed My Life, A Love That Will Always Be With Me..No Matter What..And The Memories Too Keep Me Going At The Hardest Times..We Did Everything Together..And When We Weren't Together We Were Talking To Each Other..Corey I Can Honestly Admit..You Were My First True Love..And EVRYBODY Knew It Lol..The Way I Looked At You..The Way You Looked At Me..They Knew From The Start..We Spent 4th Of July Together..My Sisters Birthday..Everyday Of Summer..Fishing..You Were My Best Friend, My Boyfriend..My Everything..When We Broke Up..The First Time..I Was Hurt..The Second Time..I Was Devastated..But The Last Time..I Was Literally Torn Apart..I Didn't Know What Too Do..Then We Started Talking Again..Like Almost A Yr. Later..And I Was So Happy..I Was Exstatic..I Was Surprised..I Was Everything All In One..And Those Next Few Days..I Couldn't Have Been Happier..But Then..You Told Me You Weren't Sure If You Loved Me Anymore..And I Felt Like I Had Just Been Stabbed In The Heart..I Didn't Know What Too Say Or Think..I Was Heartbroken..But All I Said Was Okay..And You Left..I Should Have Told You How I Felt..I Thought You Had Already Known..But Now I Know You Didn't..But I Also Feel It Wouldn't Have Mattered..Cuz I Was So Young..And You Were Moving On With Your Life..And I Was Just A Stupid Lil Kid..Who Was Completely In Love With You..And That's Okay..Because You Did Move On..And You Seemed Happy..You Had Whitney..And Your Own Place..And A Job..You Seemed Too Be Doing Great..But Under Neath It All..You Weren't Okay..And No'one Knew..I Wish I Would Have Looked You Up Sooner..I Wish I Would Have Been A Bug-A –Boo..Too Your Mom..Lol..But I Should Have Done Something..Because You Left Me..Without Me Being Able Too Tell You..I Love You..Ive Always Loved You..And I Will Always Love You..And I Forgive You..And That Im Also Sorry..Im Sorry..That I Caused You Pain, And Heartache. Im Sorry That I Am Young. But Im More Sorry, That I Couldn't Have Helped You..Somehow Someway..Im Sorry I Didn't Tell You Everything Before You Went. Im Sorry That I Waited So Damn Long. Im Sorry Corey. I Don't Know How You Feel..Or How You Felt..And I Never Will Get Too Know..And That Kills Me..Its Like..What My Grandma Was Saying One Time..Its Like..You Can Be On Good Terms Or Not On Good Terms With Someone..And Everything Be Alright..As Long As There Here..And Okay..And There Alive And Doing Good. But When There Gone..Its Like You Whole World Turns On It's Axis..And Your Just Left Standing There..Wondering..What The Hell Do I Do Now?..Well..That's What I Was Like..And It's Been Over 11 Months Now..And I'm Still Standing Here..Wondering What Too Do..Because I Have No Clue..There's No Way Too Get Over You..I've Tried..It's Impossible..I've Tried Pushing It Too The Back Of My Mind..But It Fights It's Way Back..I Try Thinking Of Something Else..Makes Me Think Of It Even More..Corey..I'm Stuck..And..I Have No Clue What Too Do..Your Gone..And That's Not Alright..You Left Your Mom And Dad, Jennifer, Ashley..Your Whole Family, Plus Your Friends And Your Girlfriend..And Me..I Know How You Felt That Day..Not Fully..Because Everyone Feels Differently..But I Do Know How You Felt..You Felt Lonely..And Pissed Off..Sad..Scared..Confused..And Determined That If You Were Gone..Everything Would Be So Much Better..Well Corey..You Were Completely Wrong My Love..When You Died..I Bet Alot Of Other People Did Too..Actually I Know They Did..I Didn't Even Find Out Till 2 Or 3 Months After..The Day I Decided Too See If You Had A Facebook..I Typed You A Message And Everything And Sent It..Then I Looked At Your Profile..And It Hit Me..I Never Cried So Hard In My Life Corey..My Grandma Came In And Was Like What's The Matter With You?..All I Could Say Is.."Corey"..And She Came Over..And I Muttered It Out..And She Gasped For Air..Like Her Heart Had Stopped..And She Tried Too Comfort Me..She Tried Too Talk Too Me..My Grandpa Was Feeling For Me Too..He Called Around Asking About If Anyone Heard Anything Noone Had..But I Set Up..And Cried..And Cried..And Cried..And Cried..And I Couldn't Stop..I Still Cry..Randomly Out Of Nowhere..Just Because Your Name Pops In My Head..Corey..That Day And The Day My Grandpa Died..Was Absloutly Positivly The Worst Day's Of My Life..I Couldn't Believe It..I Wouldn't..I Would Just Say..No It's Not Real..Its Fake..He Just Did This So People Would Leave Him Alone…Then I Started Talking Too Your Mom..And I Knew..I Knew You Were Actually Gone..And I Was Never Going Too See That Stunning Smile..Or Those Big Brown Eyes..Or Hear Your Voice..Or Your Laugh Again..I Knew..I Knew It Was Over..I Love You Corey William Barber..Always And Forever!..





You Said You Would Always Be There For Me..So Where Are You?.
You Said You Would Always Love Me..How Did That Change?.
Questions I Have That Will Never Be Answered..Because You Felt The Need Too Go Away.
You Seemed So Happy..Content..On Life..But Deep Under Neath..You Were Fighting For Your Life.
You Felt Alone And Scared..Angry And Sad..Confused And Worried..But Most Of All..You Felt Determined That Life Would Be Better For Everyone..Without You Hear.
Oh, But My Dear.
The Day You Decided Too Let Go, Is The Day You Decided Too Blow A Hole, Through Everyone's Heart..You Tore Them All Apart.
Noone Ever Thought You Would Be The One Too Let Go..But Noone Ever Knew You Were Loosing Your Soul.
Too Even Think Of You Being Gone..Tears The Hole Deeper In My Heart..You Were My First Love Right From The Start..
Your Joy, And Happiness..Your Laughter And Love..The Peace You Have In Your Heart..Could Have Tooken You So Far..So Quick.
But You Just Got Up And Quit..
But Now We See..That You Were Not Happy..
But Now We See..That Things Aren't Always As They Seem..
But Now We See..The Man..You Were Always Ment Too Be..
But It's Too Late..Too Help You See It..
But Its Too Late..Too Show You What Life Could Be..And What You Make It Too Be..
But Now It's Too Late..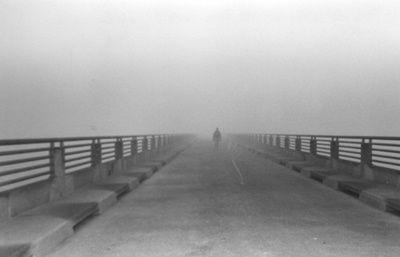 © Becky G., Westerville, OH