The Final Goodbye
October 27, 2011
Sitting in this chair I look at your face
Glimmering in the sun light, my heart begins to speed in pace.
I wonder if you think the same things I do
Like how amazing you are and if you love me too.
Paralyzed by the fear of your rejection I stay mute
Not a word uttered from my lips, but slowly you hear me say "cute"
Heart beating even faster, my face becomes the hue of roses
Hiding so you can't see, baffled at the situation this word poses.
You question me asking "what do you find cute?" 
Stuttering, I push out, "I-I find you cute."
My mind moving the speed of a jet-plane
Unable to comprehend what has occurred in my brain.
You move close, close enough for me to smell the cologne I love so much,
Close enough for me to be able to just reach out and touch.
Touch the face of beauty that for so long I have admired from afar,
Yet here you are within my range separated by only metal bars.
The way I've lived hasn't been perfect, I've made mistakes
Life handed me bad cards so I've been given a few breaks.
This time around it's 15-20 years
Years filled with all my thoughts including my fears.
It hasn't been easy, it's been real hard without you, my best friend,
You said you'd always be there and here you are till the bitter end.
When I stand to reach for your hand the guard yells "NO CONTACT!"
Struck with grief I suck myself back and leave with a pact:
Hold on for a few years, get off, and be with you forever
Then "the powers that be" finally pulled the lever.
Opening my cell one last time and giving me a chance at life
No longer I'll mess up and live my life in strife.
I find the address you gave me and knock on the door
Another man answers and my stomach falls to the floor.
I hold on for you to get the full story
Maybe it's another friend and I have my chance at glory.
You arrive in the room the same as I remember, rugged, strong, and beautiful
My eyes swell with tears when I hear the truth and I feel pitiful!
Running from that place I go to the home they supported me with
Everyone I spoke with said it was a dump, but I thought that was a myth.
Infested with rats, blood stains, and the smell of death
The myth was true, I felt only comforted by my own breath.
Staring at the moldy wall covered in a floral wallpaper I think of you
With you not in my life I don't know what to do.
Everything fell out of place again,
Back at the place I began.
Darkness consumed me and I feared the worst
Obtain help I did try at first.
Nothing would help not drugs nor love
Not even the great "God" from above.
I sit at my desk hold my breath as I write this letter
So scared and hurt, this paper is only getting wetter.
Covered in tears I apologize for the condition
For where I'm headed is only a prediction
I love you with all my heart and I rid you of all your strife
With my last breath I take my life...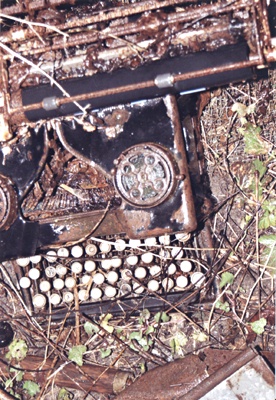 © Kyla G., Sunbury, PA