The Mask
October 11, 2011
A crowded room of censorious faces
Yet I chose to wear a mask
To hide myself from others' thoughts
To avoid the questions that they ask.

For things in the past have not been easily forgotten,
Words have been twisted and loves torn apart
And tracks from the tears that fall down my face,
That the mask now protects my mind and my heart.

This beautiful mask, shades of ebony and gold
Shielding my face and my form,
Behind its own beauty, its own mind and design,
To join others who succumb to the norm.

But at night I take off the mask,
And behold my sight in the mirror,
Unkempt hair, plain faced, tired,
Head full of hope, eyes full of fear.

One day my life will once again be joyous,
One day I won't be afraid.
Of giving my heart to the wrong people as before,
To forget the mistakes I have made.

One day it will strike me like a rogue wave,
A crumbled face beaten by the relentless social lashings,
And on the shores of my weary mind I will see,
I will learn – I can hurt, but there is no crying.

I will be free some day soon
From this small ebony cover,
This guise created from what I say.

I will be joyous, I will be faithful,
No longer afraid to give my all,
And I will be willing to give all of myself, one day.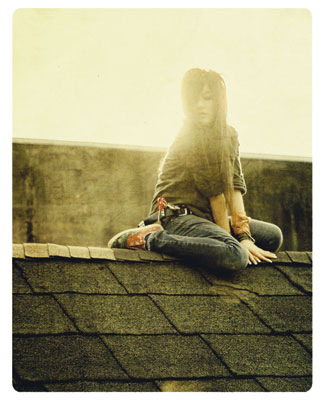 © Hailey J., Lake Oswego, OR