The Race of Life
September 10, 2011
Before cross country, the thought of three miles scared me half to death.
Now I'm getting stronger each time I run, each step, each mile, every breath.
For me it's not about winning first place, beating the other team.
Just the thought of beating myself, the clock, puts me on a high, it seems.
It is all about pushing yourself, showing the world what you can do.
If at first you prove it to yourself, then others will believe in you, too.
It all revolves around that home stretch when I know the prize will be mine-
All the achievement I could ever want is right at that finish line.

Now you may not think you're a runner, but you run every day:
You run the race of life, passing others and barriers in your way.
Yes, you may fall down, get hurt, scrape an elbow or a knee.
But it's the matter of choosing to get up and keep on running.
It's about finding your pace, where you belong, what you're good at:
a passion for kids, a love for cars, much skill with a ball or a bat.
Everyone has something, something different to offer the world.
The talents and skills vary greatly, because our culture's so swirled.
Between our listeners and our leaders, those who love and those who care,
We have one big, exciting world. Take a chance if you dare.
Don't fret if you don't know all your skills; you'll find them any time, any season.
I know for a fact you have them, for you were put here for a reason.

Get off the couch, out of the bed; hurry up, now! Come on!
Use your skills to make a difference before this life is gone.
As you see, life's a race-thrilling and fast-paced; I'm just saying.
Now what are you doing sitting around? Let's go! The world is waiting.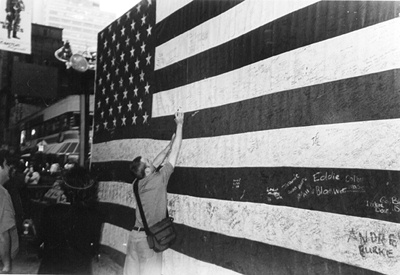 © Kyle M., Marblehead, MA