For Mike
July 11, 2011
I am the predator.
And you are my prey.
I lie in wait
And see you bend, slowly,
And sip from the watering hole.
I rotate my shoulders
Readying myself to pounce
As the hunger in my belly swells.
I close my eyes
And envision what will happen.
I will leap from my hiding spot,
Running as my paws collide with the ground
You will falter, too stunned to move.
And then you will run
Zigzagging across the plains.
Your heart and lungs will ache,
But you will continue to run.
But I, too, will continue to run.
I will chase you down, bouncing slightly
Off the Earth, springing forward
Until you are just within my reach.
I will sink my claws into your hot, sweating skin
And drive my teeth into your neck.
Panting, we will collapse in the dirt
And you will be mine.
All mine.
I open my eyes, smiling
And clench my muscles
Preparing for the attack.
I giggle, excitedly,
And you look up and over towards me.
I sink low to the Earth
But your soft, blue eyes spot me.
We stare at each other for a moment
And suddenly, you charge at me
And I sit there, frozen.
You tackle me in the bushes
Sink your claws into my skin
And drive your teeth into my neck
And the growling hunger in my belly escapes.
When you look at me, you smile
And I know that I was never the predator.
I was the prey.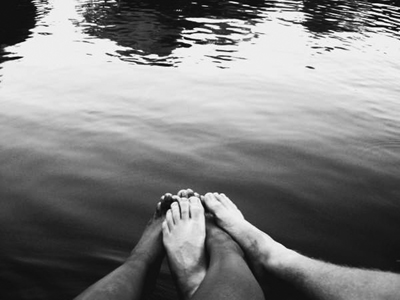 © Michelle W., Ada, MI