Who I Am
July 12, 2011
I am flash lights shining in the dark,
Baking casseroles, and spicy fried turkeys.
I am mile long lines where no one wants to move,
And sweet iced tea in red plastic cups.

I am motors churning in jellyfish filled waters,
Splintering docks and the fishy aroma of rivers.
I am salty, soaked beach towels,
And sea weed wrapping around toes.

I am dry, store bought cake mix,
Cold potato salad and wild ponies by the road.
I am kiddie rides at the shore,
And orphaned kittens under sheds.

I am seagulls cawing for goldfish crackers,
Overwhelming scented sunscreen, and slippery, soapy, black mud.
I am vibrating washing machines shaking beach houses,
And floating zebras in the bay.

I am dogs diving into alligator filled lagoons,
Flip-flops squeaking in an outdoor shower, and shrimp boiling in outdoor pots.
I am sleeping children in couches and chairs,
And enough ice cream sundaes for seventeen.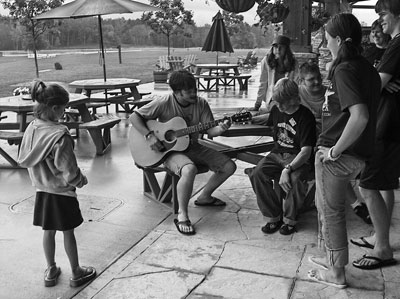 © Sean C., Princeton, IL