Daddy's girl
May 20, 2011
Everyday she hears the screams
Of the little girl next door.
She's five years old and scared to death,
Screaming "Please daddy! No more!"

"Shut up you stupid girl!" He screams
As he shoves her to the ground.
She hides her face so he cant see,
And dares to make a sound.

"Daddy stop! It hurts so bad!"
She screams as he hits her some more.
"Your good for nothing! A waste of time!"
He says as her head pounds the floor.

He walks away with a grin on his face
As she lies there trembling in fear.
"Please god, make him stop" she prays
Hoping somehow God would hear.

She cries herself to sleep again,
On nothing but cold, hard floor.
Knowing when she wakes up in the morning,
Her dad would come back for more.

Time passes painfully, Shes fifteen years old
She tries to hide her pain.
She laughs, she smiles, and tries to hard
To hide that shes going insane.

She comes home from school, goes to her room,
and sits on her bed and cries.
She can hear his footsteps. Closer and closer.
Until the silence slowly dies.

He storms through in a rampage
And slams her against the wall.
"Your such a liar! Good for nothing!"
He screams as his fist hits her jaw.

She crawls into the corner,
bllod puring from her mouth side.
"That's what you get you iggnorant girl!"
Again her face she hides.

He goes downstairs, she hopes it's over
But he storms in with a bat instead.
"I'm tired of you! I can't stand you anymore!"
He yells as the bat slams her head.

She cannot take it, her body is worn.
She decides to give up for good.
He hits her again, again, and again.
Hitting her as hard as he could.

The worlds going black. It's finally over.
And now she's finally free.
She no longer has to hide the bruises,
Or the tears nobody could see.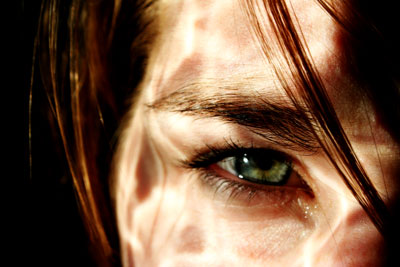 © Monica L., St. George, UT