The Sun and Moon
May 19, 2011
Rain pours down among the pines.
The sun so noble in the dusky gray sky.
I listen and wonder as the sun says goodbye, how many nights the sun has wanted to linger. As if perhaps to catch a glimpse of its dearest friend, the moon.
But doesn't he know that he must go before the moon can say hello?
They are best friends through and through, but oh how it must be so blue.
Never to get to see each other.
They dance a dance that's never ending.
They circle each other, round and round.
Hoping that maybe someday their fate may change and they will be able to view each other all anew.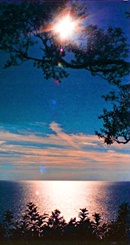 © Crystal B., Gresham, WI