Down by The Spring
April 26, 2011
Down by the spring I go this day

Rushing downhill with my dog to play,

I catch the bright colors of autumn leaves

Dancing in the wind as nature breathes.

The sound of the spring floats up to my ears,

I gaze down the hill as I near,

Spotting a butterfly with colorful wings,

Its little body but a blur as it speedily clings to random things.

.

The scent of the spring drifts up to my nose,

Sweet from the honeysuckle that dips and wallows.

I stooped down on the edge of the short little ledge,

Stealing a drink for my irksome thirst,

I tumbled into that sweet stream, headfirst!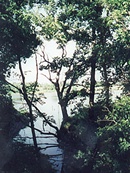 © Jennifer A., Plattsburg, MO