Solitude
March 4, 2011
Solitude.
A translucent masquerade.
An unnoticed and silent parade.
The Time here slowly passes.
Outside, is Lightening to the masses.
Sanity and Dementia, undistinguishable.
The ember of the candle, extinguishable.
Where the grey snow dapples and the Ice Queen reigns,
Not one, but me would not think it strange, in this hellish terrain.
The shadows of friends and poltergeists that glide,
They whisk me away for the Night Ride.
A traipse into the void, black and dark.
Denying freedom to the daydreaming meadowlark.
Haunted Forest of Whispers, stripping the Sad Soul,
Seductive, clueless, painful, and whole.
A hymn of tears loud inside the portal, torrent and seeping,
Otherwise, a mute lullaby the lark mournfully sings, weeping.
Dead Iridescent leaves scattered,
Around the abandoned abodes of those that no longer mattered.
There, lies the corpse of the lark that serenaded so deep.
Ruined by violent ballads of Ravens, they reap,
By the ancient seamstress spinning shadows under the Silver Bell,
Nothing but a dark melody they sew and sell.
A lost covenant that had long drowned under the sea,
Is reflected by the crescent moon and willow tree.
But not without fragments of dreams and shattered epiphany.
And it resonates, like the sound of a melancholy symphony.
Like the silence of the winter blossoms' sigh.
Shall this be the final goodbye?
Across the vertical horizon, the Ice Queen sits in her frozen throne.
She shimmers in a hidden grotesque form.
What all sees is an epitome.
Her form, nothing but a fragile solidity.
Then she offers me a silver chalice.
I am not blindfolded but I still accepted it with malice.
She already had all I aspire.
Yet, one fatal sip was all she needed to acquire.
There, I stood lamenting,
Surrounded by a sudden burning aspen scenting.
Tinted wisteria flames had engulfed the citadel.
I swear at one point, I heard the whispers of an angel.
But just as quickly as it came, too quickly, it fleeted.
I awaken at the howl of the wolf, reality deeply seated.
Fantasies and Nightmares.
I believe I am all aware.
Solitude.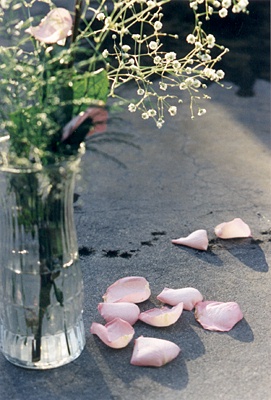 © Mary Amor, Fullerton, CA