Instrument of War
January 17, 2011
Look at you, so sleek and slender,
Glimmering with the common sheen of metal
And holding the power of a revolution,
Of a war, the will to kill and
A liking to do so.
Your cold rubber grip stuck
Firmly to your torso,
Separating colder metal from fearless flesh.

Look at you, with your long neck,
Hotter than hot when you speak,
Your loud voice booming, shouting
"Die!"
Then proving your bite
Far worse than your bark.
Why, when agitated so slightly,
Do you shout and aim to destroy?
Your slender finger so hardly flexible,
But ready to kill those in your way
With no remorse.

Look at you, with your glutton for metal,
You cannibal,
Eating steel and copper and spitting
It back out like it's nothing.

What's your game, wizard?
You, with the power to persuade
The strongest man and change
The worlds of so many.
You sorcerer of infinite manipulation,
With the magic that can take lives,
And save lives at once.

You demon, setting ablaze the
Hearts of those who rely on you,
Those you target, and
Those and loved your target.

You villain, working for companies
That gain wealth in blood and tears,
Where radiant red falls upon greedy green,
While the black market grows strong.

You mercenary, working for anyone
Willing to put up with your attitude,
The horrible memories you create
And the pain that you deal.

Yes, you guardian angel, you.
You saint with no prayers,
You army with no leader,
You child with no father;
Who gives birth to wayward souls
Of this departed land while
Protecting the souls of others,
Like mine,
The heart and spirit of this country,
The young and old without bias,
Your blind justice brought to crystal clear
Visions by your master, breathing
Heavily in the morning as he
Wakes up, choosing your next victim.

Look at you, you envious beast,
Taking lives you know can't be yours.

You marionette with strings so tangled that
You can't help but be surprised
And leap in fear of your own strength
When it is tapped and released.
You shake with fear when called upon,
And weep silently when spent, addicted
To force and craving brawn belonging
To no man alive.

Look at you.
You Angel and Reaper.
Life and Death.
Savior and Enemy.
You are everything.
You are nothing.

Look at you, so sleek and slender,
Glimmering and gleaming
With the will of man,
The will of a lost and broken world.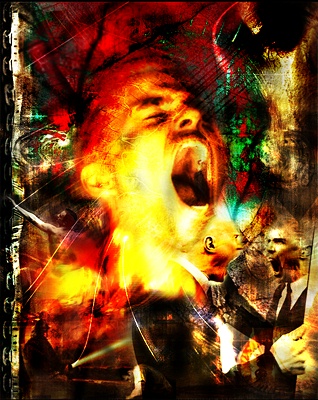 © Mark P., Woodside, NY